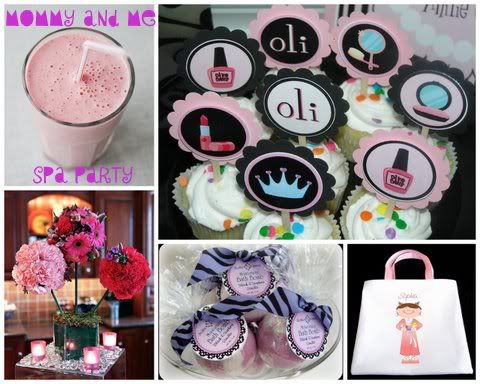 a good old friend suprised me with an email last night requesting if i can assist her as she plans for her big day. she would like to celebrate it along with her daughter's birthday this coming april. a fun mommy and me spa party was planned and i think it's a great idea that both mommy and daughter will enjoy along with their friends.
this inspiration board came to life and i adore the black, pink and lavender color scheme as it is truly girly and fun. a spa party is not complete without a spa bar lining up bottles of nailpolish, body scrubs, lotions, scented oils and soaps. these would serve as party favors as the guests fill up their spa baskets to-go.
for the little girls, a kid-friendly dessert table or candy bar would be more appropriate serving cupcakes topped with spa-themed cupcake toppers, cookies, cakeballs and more. the girls then get to take home a personalized spa canvas bag filled with mini-lotions, bath bombs, lip balms, toy rings and candy bracelets.
a signature refreshing drink is a must. say, a pink martini or mojitos for the mommies and a fresh strawberry milkshake for the girls. i am typing this and i'm getting to really like this idea very much (even though i don't have a daughter) but this soiree is such a fabulous get-together with friends and getting pampered on your special day!
{photo sources}