a dear friend based in canada will be celebrating her cutest baby boy's first birthday soon and about a year ago, i have suggested she does an adorable alphabet party for his birthday. i didnt realize it was that time already! it also means, her maternity leave will be up soon and she faces reality that the return to work memo is any day now. sorry han. but before all that, baby alex still has to turn one year old first and it's party time!
i've spent most of the afternoon researching (more like "googling" really) for different cute party elements i can share with her. first came to mind, is this hip alphabet birthday shirt found online (credits at the end of the post). i'm also loving the floral centerpiece with mixed letters in the vase and maybe even topped with a letter flash card on a stick. the inspiration board below also includes the coolest invite made out of magnet letters and sealed with the actual invite. for the menu, alphabet tater tots and letter cereals or crackers for baby guests. letter cupcake toppers makes for adorable cupcake decor and would tie in with the theme perfectly!

party favors can be DIY letter crayons made using the silicone alphabet molds or alphabet books or even boxes of flashcards. totally educational and fun too!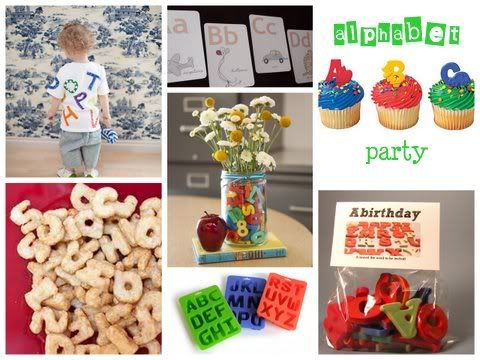 friday faves will be back next week! in the meantime, you all have a great weekend!