i am excited to launch today my new blog design created for me by Shalon of pretty lovely design. she is amazing and so wonderful to work with. i hope you all like it too!
the decision to do a design redo comes along with a new direction in my blog content. i just wanted something new and fresh in terms of blog design. i yearn for bright colors, a clean background and a more subtle simplicity. i will still be posting and sharing party planning and entertaining ideas here but i am incorporating more of a lifestyle blog content encompassing style, family matters, shopping and so much more. my old fashion blog, the style spy, will be infused here and i am excited about that as well.
i hope you'll stick with me in light of this blog content shifting and changes. i am always grateful for everyone's support and will forever be!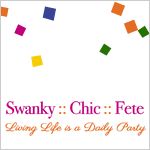 lastly, if my blog button is in any of your blog pages ~ please take a quick moment to update it with the new HTML code provided above!
THANK YOU ALL SO MUCH!